Associate Members Coordinate and Collaborate to Develop a GBET Industry Standard Universal Adaptor to Interface with Various Carrier Databases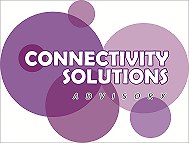 Manchester, United Kingdom – May, 14, 2013 – Connectivity Solutions (CSL), a network optimization solution provider, has been selected as one of an elite group of Global Business Exchange for Telecom (GBET) Associate Members to coordinate and collaborate in developing a GBET industry standard universal adaptor to interface with various carrier databases together with a B2B electronic exchange service allowing the electronic exchange of common data transactions.
Nigel Meacham, CSL's Managing Director, said, "Connectivity Solutions is pleased to have been selected as one of the members involved in the eContract program.  It is excellent for the industry that GBET has taken the initiative with a B2B electronic exchange service, and we welcome working with the GBET board as well as all current and future members to develop the program.  CSL believes that the industry is in need of inter-carrier platforms to improve telecom industry efficiency."
For information about CSL and its full suite of optimization solutions, email nmeacham@connectivity-solutions.net or visit www.connectivity-solutions.net.
# # #

About Connectivity Solutions
Connectivity Solutions, Ltd is a UK company that has been created to leverage a unique combination of technology and industry knowledge to support companies providing or operating large estates of off-net services to identify areas for cost reduction, process efficiency, service simplification and procurement improvement.
Contact: Nigel Meacham; +44 (0)1772 842 098, +44 (0)7714 524 824. nmeacham@connectivity-solutions.net; www.connectivity-solutions.net
About GBET
Global Business Exchange for Telecom (GBET) is a carrier-led association created to channel ideas and best practices by collaboratively developing actionable solutions and establishing parameters for the electronic exchange of business information in order to reduce costs, maximize revenue and better manage present and future challenges and opportunities. GBET was launched at International Telecoms Week (ITW) in June of 2011, and currently has over 100 registered members.
Contact: www.gbetcommunity.com