NORTHBROOK, IL, MAY 22, 2014– INOC, a 24×7 Network Operations Center (NOC) and global provider of outsourced NOC monitoring, reporting and support services, today announces it has been named a finalist in the Private Company of the Year category of the 2014 Leading Lights Awards.  Leading Lights is the annual awards program run by Light Reading, the market-leading publication for the global telecom industry.
The Leading Lights program recognizes top telecommunications companies and executives for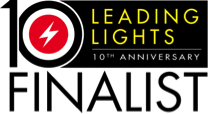 their outstanding achievements in next-generation communications technologies, applications, services and strategies, and rewards organizations that have performed well during the past year.  INOC was recognized for standing out amongst competitors and keeping employees content, as well as its ability to innovate constantly and quickly in order to meet new market demands.  Finalists were selected in 16 categories from hundreds of entries; the judging panel consisted of Light Reading's editors as well as the analyst team from Heavy Reading.
"INOC is delighted and honored to be named a finalist in the Private Company of the Year category of the Leading Lights Awards," says Prasad Ravi, Chief Executive Officer of INOC.  "This nomination represents our growth in the market as well as INOC's ability to innovate in order to meet the growing uptime, availability and performance needs of our customers.  We look forward to continuing our momentum in 2014 and beyond."
In 2013, INOC turned up NOC support for a nationwide Wi-Fi network for a tier 1 US carrier and built a temporary NOC for the RSNA®2013 Annual Meeting – the world's premier event in medical imaging.  The company also expanded its Madison, WI-based NOC to accommodate additional staff, as well as its monitoring capabilities to span physical, virtual and cloud-based infrastructure.  Furthermore, INOC added NOC support for multiple new microwave and optical networks across the US.
INOC combines state-of-the-art software technology, highly resilient and redundant NOC infrastructure, proven processes and expert technical staff to improve uptime, availability and performance of various networks, servers and applications.  INOC's 24×7 NOC Services offer real-time monitoring of critical infrastructure components as well as rapid incident response and resolution; extensive reporting capabilities, providing 24×7 visibility into infrastructure support activity; and operations run book development, detailing comprehensive and client-specific operational support processes for Incident Management, Problem Management and Change Management.
Winners will be announced at the Leading Lights awards dinner, which will be held Tuesday, June 17 at 7:00 PM at The Adler Planetarium in Chicago, IL.
To learn more about INOC, visit INOC.COM.
For more information about the 2014 Leading Lights Awards, click here.
# # #
About INOC
INOC is a 24×7 NOC and global provider of outsourced NOC monitoring and reporting services for enterprises and carriers.  From a primary NOC in Madison, WI, and a Disaster Recovery NOC near Chicago, IL, INOC's 24×7 staff provides a hands-on approach to incident resolution.  INOC proactively processes critical infrastructure support issues and delivers timely information to improve the uptime, availability and performance of applications, servers, and networks.  A client web portal, NOCVIEW4, provides extensive reporting capabilities and visibility into IT infrastructure monitoring and support activity in real-time.  INOC cost-effectively integrates 24×7 NOC support into a client's existing operation to deliver greater uptime.  For more information on INOC and its services, send an email to info@inoc.com or call +1-877-NOC-24X7 (+1-877-662-2497).  You will also find additional information on our website, INOC.COM, or by following INOC on Twitter, LinkedIn and Google+.
MEDIA INQUIRIES:
Ilissa Miller
iMiller Public Relations for INOC
Tel: +1 866 307 2510
INOC@imillerpr.com