Strategic Location Enables Accelerated Expansion of the Company's U.S. Services
WESTBURY, NY – June 14, 2017 – 1025 Old Country Road, the home of 1025Connect, Long Island's premier network-neutral Meet-Me Room (MMR) for network interconnection and colocation services, announces that Epsilon, a privately owned global communications service provider, has selected this location for the company's new North American headquarters.  The facility's unique location and carrier hotel classification provides Epsilon the ideal location to expand its localized executive and support team in North America while offering access to its colocation and interconnection capabilities.
In addition to its corporate office suites, 1025 Old Country Road delivers direct access to multiple submarine cable systems connecting North America, Europe and Latin America, as well as the ability to bypass Manhattan fiber routes for greater network redundancy and diversity.  Located in Westbury, New York, and home to 1025Connect the easternmost peering point in the New York metro area, enabling easier access and delivery of content distributed to the Continental Edge.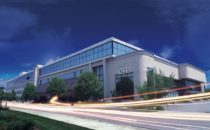 "Expanding Epsilon's operations in North America provides us the opportunity to establish a broader presence within the most mature cloud market in the world," explains Paul Verhoeven, General Manager, Americas, Epsilon.  "1025 Old Country Road was an obvious choice for our regional headquarters, as it provides direct access to both the New York metro market as well as global interconnectivity via multiple subsea cable termination points."
Epsilon has been expanding its services in the U.S. to satisfy demand for cloud-centric networking throughout the region.  By establishing its headquarters in New York, Epsilon will have an enhanced ability to serve North American customers with access to regional and global markets while simultaneously building its channel relationships.
"We are excited to welcome Epsilon into 1025 Old Country Road and look forward to helping grow its U.S. operations with access to our superior connectivity," says Jeff Wasserman, Chairman of 1025 Old Country Road.  "By establishing its headquarters at 1025 Old Country Road, Epsilon now has the added ability to deliver its cloud-centric networking solutions to a greater number of U.S.-based customers."
For more information about Epsilon, visit www.epsilontel.com.
To learn more about 1025Connect, visit www.1025connect.com.
# # #
About Epsilon
Epsilon is a global Cloud Centric Network service provider, extending carrier grade connectivity services to the world's Communications and Cloud ecosystems. The company offers smart networking capabilities that combine on demand infrastructure, automation, web-based portals and APIs to give partners friction-free access to global connectivity. All Epsilon services are powered by a next generation hyper-scalable global backbone which connects all the leading telecoms hubs globally. Across this fabric encompasses a dense ecosystem of carriers, service operators and cloud providers offering the leading interconnect point for a diverse set of network and connectivity requirements.
About 1025Connect
1025Connect is Long Island's premier network-neutral Carrier Hotel located at 1025 Old Country Road in Westbury, New York.  This facility is renowned for its ability to connect subsea systems to terrestrial networks with the optional ability to bypass Manhattan for greater network diversity.  1025Connect provides colocation solutions that enable network interconnections through its highly-secure Long Island data center.  Network operators of all types within 1025Connect benefit from direct access to Manhattan Bypass fiber routes, multiple transatlantic and Latin American submarine cable systems and multiple enterprise networks — all without monthly recurring cross-connect fees.  Visit www.1025connect.com.
Media Inquiries
iMiller Public Relations for 1025Connect
Tel: +1 866 307 2510
pr@imillerpr.com
iMiller Public Relations for Epsilon
+1 866.307.2510
epsilon@imillerpr.com