Four Local Organizations Have Been Selected for Open Voting in the Weeks Surrounding NANOG 74  and ARIN 42 Events in Vancouver, B.C.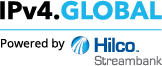 NEW YORK, September 27, 2018 — IPv4.Global, an operating unit of Hilco Streambank, today announces the finalists for the next IPv4.Global Good Netizen Awards, which will coincide with the Vancouver, B.C. meetings of NANOG 74 taking place October 1-3, and ARIN 42 taking place October 4-5. Award finalists include BC Technology for Learning Society, Free Geek Vancouver, First Nations Technology Council and The Society for Canadian Women in Science and Technology (SCWIST). The first and second place finishers will receive financial contributions from IPv4.Global in support of their continued efforts. Supporters can visit the IPv4.Global website to place their vote for a Vancouver Good Netizen. Voting will conclude on October 8 after the closing of NANOG 73 and ARIN 42.
The IPv4.Global Good Netizen Awards were designed to recognize and celebrate local organizations that have demonstrated exceptional "netizenship" throughout their communities, including engaging in the promotion of internet access for all, supporting and funding internet and technology education, and contributing to open and ethical internet business practices.  The winner will be chosen through online voting which opens on Thursday, September 27 and concludes on Monday, October 8. IPv4.Global will contribute one percent of its gross sales from its IPv4 online auction platform from October 15 through October 22, dividing the proceeds between the Good Netizen Award winner and runner-up proportionate to the number of votes each organization receives.
"We would like to extend our sincere congratulations to all four organizations selected as finalists for this second edition of the Good Netizen Awards," shares Gabe Fried, Chief Executive Officer, Hilco Streambank. "Their contributions to the Vancouver community are notable and wide-ranging. The inaugural Good Netizen Awards that took place in Denver this past June were a great success and we are pleased to continue this initiative in Vancouver and look forwardto recognizing Good Netizens around the world in the future"
Vancouver Good Netizen Finalists
BC Technology Council recognizes the importance of access to technology, the BC Technology Council collects donated computers and all types of other tech, trains and hires youth to refurbish the computers, and then distributes the computers to schools, nonprofits, libraries, First Nations groups, and students.
The First Nations Technology Council is committed to strengthening local Indigenous economies and empowering Indigenous innovators, recognizing those factors as essential to self-determination and nationhood. To that end, the organization works to ensure that Indigenous peoples have full and equitable access to the tools, training and support needed to maximize the opportunities presented by technology and innovation.
Free Geek is a nonprofit community organization that reduces the environmental impact of waste electronics by reusing and recycling donated technology. Through community engagement they provide education, job skills training, Internet access and free or low cost computers to the public.
Society for Canadian Women in Science and Technology (SCWIST) acknowledges that outdated assumptions persist about women as leaders in STEM. SCWIST works to boost the numbers, retention and status of women in the workplace by facilitating networking, mentoring and advocating woman-friendly policies while raising awareness. SCWIST also highlights opportunities, achievements and positive messages for and about women in the field by raising public awareness and guiding policy implementation.
Future awards will take place during NANOG 75 in San Francisco in February, 2019 and RIPE 78 in Reykjavik, Iceland in May. For more information about the IPv4.Global Good Netizen Awards, email hilco@imillerpr.com.
To learn more about IPv4.Global, visit www.ipv4.Global.  For more information about Hilco Streambank, visit http://www.hilcostreambank.com/.
# # #
About IPv4.Global
Since 2011, IPv4.Global has become the leading IPv4 address broker serving clients in every region and supporting transactions of IPv4 addresses of every size.  IPv4.Global counts among its clients the largest Global network providers and cloud computing companies as well as thousands of smaller organizations who buy or sell addresses online via their auction platform.  Our mission is to provide exemplary service for our clients, transparency to the IPv4 market, and to operate within the framework of transfer policy in each region.  Headquartered in New York, IPv4.Global is an operating unit of Hilco Streambank, a leader in intangible asset valuation and monetization.
MEDIA INQUIRIES:
iMiller Public Relations for IPv4.Global
1 866 307 2510