Infomart Recognized for Advancing Water Reuse Through Its Silicon Valley Data Center Recycled Water Conversion
SILICON VALLEY, Calif. – March 22, 2016 – Infomart Data Centers, a national wholesale data center provider, announces today that it has been named a Recycled Water Customer of the Year by members of the 2016 California Annual Conference Awards Sub-Committee and the WateReuse California Board. The Recycled Water Customer of the Year award recognizes Infomart's Silicon Valley data center recycled water conversion for advancing the acceptance of water reuse and demonstrating how recycled water benefits the public and contributes to its business services.
Data centers use a significant amount of water to cool their high-density server environments. In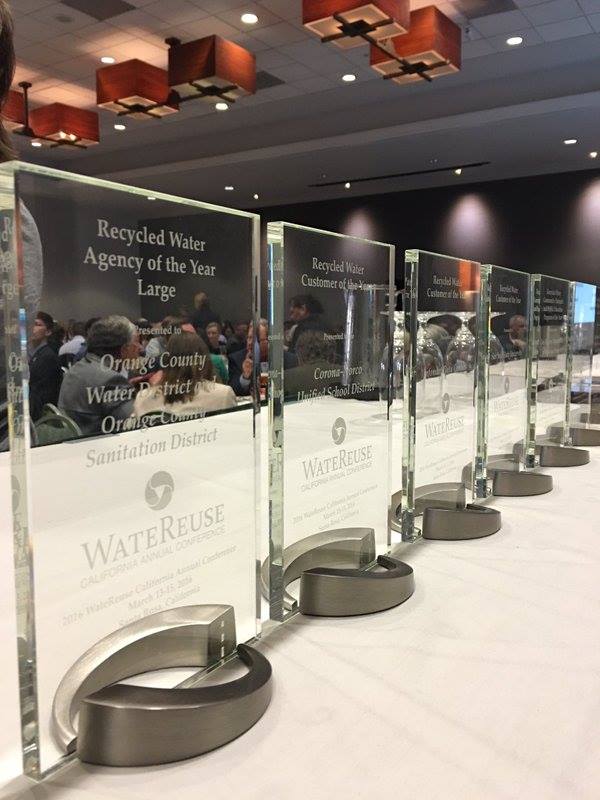 drought-stricken locations, such as in California, proactive water reuse initiatives such as Infomart's recycled water conversion are crucial to striking a balance between a data center's water needs and limited resources. Infomart Silicon Valley's move to use non-potable, or "gray water," for 100 percent of the mechanical infrastructure and irrigation surrounding the facility saves millions of gallons of increasingly endangered potable water per year, in addition to lowering the facility's environmental impact. Based on modeling exercises, with assumptions of 60% load and 60% gray water utilization, Infomart expects to save 800,000 to 1 million gallons of potable water per month with its recycled water conversion.
"The Infomart Silicon Valley data center was selected as a recipient of the 2016 California
WateReuse Customer of the Year Award because of its leadership in moving to recycled water for its facility's cooling infrastructure and for landscape irrigation," says Pam John, 2016 California Annual Conference Awards Chair. "Data centers are traditionally viewed as sizable consumers of water. Infomart is using municipal recycled water from the South Bay Water Recycling system and re-using gray water from within its facility. These measures are important in saving millions of gallons of drinking water, and especially important in balancing the economic vitality of Silicon Valley and the jobs it brings with California's drought water supply restrictions. The Awards Committee congratulates Infomart Silicon Valley on this award."
"We are honored to receive the coveted WateReuse Associate Recycled Water Customer of the Year award," says John Sheputis, President of Infomart Data Centers. "The choice to convert to recycled water in our Silicon Valley facility wasn't determined on the basis of receiving recognition, but rather because it was simply the right thing to do. I'm proud of my team for following through on this environmentally-conscious initiative and look forward to seeing what else we will achieve as we work to towards creating greener, more sustainable data centers."
Infomart Data Centers, along with other WateReuse California leaders in water recycling, were honored during the 2016 California Annual Conference Awards Luncheon in Santa Rosa, California on March 14.
To learn more about Infomart Silicon Valley, visit www.infomartdatacenters.com/locations/silicon-valley.
About Infomart Data Centers
Founded in 2006, Infomart Data Centers (formerly Fortune Data Centers) is an award-winning industry leader in building, owning and operating highly efficient, cost-effective wholesale data centers. Each of its national facilities meet or exceed the highest industry standards for data centers in all operational categories of availability, security, connectivity and physical resilience.
Infomart Data Centers offers wholesale and colocation facilities in four markets throughout the United States: San Jose, Calif.; Hillsboro, Ore.; Dallas; and Ashburn, Va. For more information, please visit www.infomartdatacenters.com or connect with Infomart on Twitter and LinkedIn.
# # #
Media Contact:
iMiller Public Relations
for Infomart Data Centers
+1 866.307.2510
infomart@imillerpr.com