Aqua Comms Recognized for 'Project of the Year – Subsea Networks'
DUBLIN – OCTOBER 9, 2017 –  Aqua Comms DAC ("Aqua Comms"), the operator of Ireland's first dedicated subsea fibre-optic network interconnecting New York, Dublin and London, today announces that it has been named a finalist by Capacity Magazine in the "Project of the Year – Subsea Networks" category of the 2017 Global Carrier Awards.  The nomination recognizes Aqua Comms for the innovation, vision and excellence demonstrated in its partnership with Epsilon to bring European route diversity and on-demand connectivity to the colocation campus of NJFX (New Jersey Fiber Exchange).  The company was selected by an independent panel of 20 judges, including leading analysts, industry experts and Capacity's senior editorial team.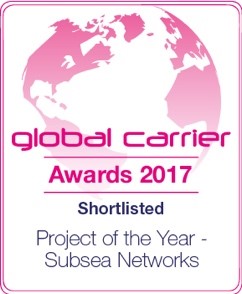 The honour coincides with strategic alliances that Aqua Comms has cultivated with top-tier terrestrial networks, interconnection facilities and global data centre hubs over the past year.  The partnership with Epsilon enables Aqua Comms' customers to benefit from interconnecting with NJFX's ecosystem of global carriers, network operators, enterprises, cloud providers and internet exchanges.  Aqua Comms presence at the NJFX colocation campus also allows customers to further diversify and plan their international connections with accuracy, eliminating any transport uncertainty.
"It is a great honour that Aqua Comms has been recognized as one of the leading subsea network providers in the world by the 2017 Global Carrier Awards," states Nigel Bayliff, Chief Executive Officer of Aqua Comms.  "Establishing a Point of Presence at the NJFX colocation campus in tandem with the deployment of Epsilon's connectivity platform grants our customers access to a diverse and growing ecosystem of carriers and service providers.  This nomination demonstrates Aqua Comms' ongoing commitment to provide advanced subsea connectivity that leverages innovation to deliver exceptional customer-focused services."
Aqua Comms deployed a Point of Presence (PoP) within NJFX's colocation campus, allowing NJFX customers to directly access the carrier's suite of services without incurring cross-connect fees.  Epsilon and Aqua Comms then partnered to deploy Infiny by Epsilon, an on-demand connectivity platform, within the NJFX facility, and Aqua Comms uses the Cloud Link eXchange (CloudLX) module of Infiny to rapidly interconnect new services in and out of the NJFX campus.  NJFX's strategic location enables Aqua Comms to bypass congested legacy New York City hubs and eliminate multiple points of failure while also saving its customers from paying high cross-connect fees.
The annual Global Carrier Awards program is dedicated exclusively to wholesale telecoms, bringing together the industry's leading names to celebrate innovation and excellence.  The awards ceremony and gala dinner are scheduled to take place 25 October in London.
To learn more about Aqua Comms, visit www.aquacomms.com.
# # #
About Aqua Comms DAC
Aqua Comms DAC is the owner and operator of the transatlantic cable AEConnect and the Irish Sea cable CeltixConnect-1, and was established with a vision to build, acquire or merge with subsea fibre-optic cable networks to provide capacity networking solutions to the global media, content providers and IT companies. To learn more about Aqua Comms and its new transatlantic subsea cable system, AEConnect, visit www.aquacomms.com.
Media Contact:
iMiller Public Relations for Aqua Comms
Tel: +1 866 307 2510