As an NVIDIA Colocation Partner, Bulk facilitates cloud-like simplicity for AI workloads, avoids capital costs and accelerates carbon reduction goals.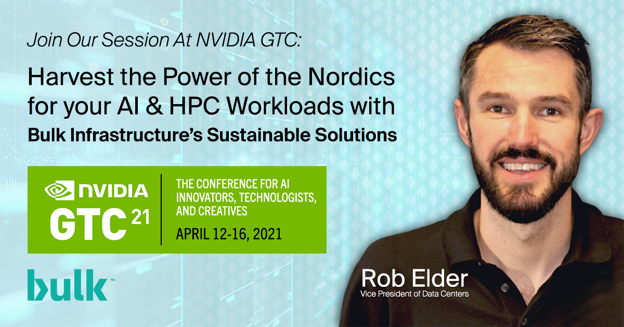 Oslo, Norway – April 9, 2021 — Bulk Infrastructure, the Nordic's leading provider of ultra scalable, highly connected, sustainable data centers, announces today that Rob Elder, Vice President, Data Centers of Bulk Infrastructure will participate on a virtual panel at NVIDIA's GPU Technology Conference 2021 (GTC'21) taking place April 12-16, 2021. GTC'21 brings together a broad community of developers, researchers, engineers, and innovators with the common goal of sharing their achievements while discovering new technologies and tools that drive change around the globe.
On Monday, April 12th, 2021 beginning at 5:00 pm GMT, the on-demand session entitled "Harvest the Power of the Nordics for your AI & HPC Workloads with Bulk Infrastructure's Sustainable Solutions" (registration required) will be available. The session explores how you can scale your data center infrastructure to meet the challenge posed by massive growth in data use in a flexible but sustainable way. Driving down the long-term Carbon and Cost impact of Data processing is more important than ever before. Learn how Bulk Infrastructure and our tailored solutions can help you meet these challenges using the Nordics highly resilient grid and renewable energy to power Bulk's ultra-scalable, green data center solutions.
Bulk is fast becoming the leading provider of HPC and AI colocation services in the Nordics and across Europe. GTC'21 High Performance Computing conference sessions offer insights and techniques to do your life's best work, paving the way to scientific discovery.
To learn more about Bulk Data Centers, please visit www.bulkinfrastructure.com.
WHAT:
WHERE:
WHEN:
Monday, April 12th, 2021 | 05:00pm GMT
WHO:
# # #
About Bulk Data Centers
Bulk Data Centers (Bulk) delivers ultra-flexible, highly connected, and massively scalable data center and colocation solutions backed by personalized service excellence. As a trusted advisor offering strategically located data centers in Norway and Denmark, Bulk enables customers to reduce costs and environmental impact. Bulk leads the industry in resilience, cost efficiency, scalability and sustainability with solutions that deliver long-term growth potential with the lowest total cost of ownership. From colocation to powered land, Bulk supports business-critical solutions with unsurpassed standards, power and connectivity. To learn how Bulk Data Centers can solve your complex data and communications logistics challenges, visit bulkinfrastructure.com and follow us on LinkedIn, Twitter and Facebook.
Bulk Data Centers is a division of Bulk Infrastructure, a leading provider of sustainable digital infrastructure in the Nordics. Bulk Infrastructure is an industrial investor, developer and operator of industrial real estate, data centers and dark fiber networks.
Media Contact
iMiller Public Relations
+1 866-307-2510