The Linux Foundation Recognized as Runner-up For Their Outstanding Netizenship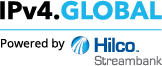 NEW YORK, March 04, 2019 — IPv4.Global, an operating unit of Hilco Streambank (www.hilcostreambank.com), today announces that ShelterTech has won the IPv4.Global Good Netizen Awards (GNAs) San Francisco, followed by runner-up organization, The Linux Foundation. ShelterTech garnered 61 percent of the total votes cast for the two organizations,   and The Linux Foundation finished with 39 percent. Both organizations will receive a financial contribution from a donation pool generated by IPv4.Global's newly designed IPv4 online auction platform. The donations will be made in proportion with the final vote percentages.
The lead winner, ShelterTech, is a non-profit organization working to empower those experiencing homelessness by providing access to opportunities across the web. Working to solve the biggest technology issues facing underserved or disadvantaged individuals, the organization offers a range of services including ShelterConnect, which provides free WiFi access in shelters and transitional housing units.
"We extend our sincerest congratulations to ShelterTech, whose dedication to facilitating equal online access for all benefits the San Francisco community and provides a much-needed opportunity to those who are most in need," states Gabe Fried, Chief Executive Officer, IPv4.Global. "We are excited to provide a financial contribution to both ShelterTech and The Linux Foundation in hopes that they will continue to be fantastic stewards and models of good netizenship, creating a more productive, welcoming and equal online world for all."
Three finalist organizations were among the competitors when voting began on February 12, 2019. The voting period concluded on Sunday, February 24, coinciding with the NANOG 75 meeting in San Francisco, CA, which took place February 18-20, 2019. IPv4.Global will contribute a portion of its gross sales from the IPv4 online auction platform placed from March 4 through March 10. The donation week falls on the same week IPv4.Global launches its newly designed auction platform (previously IPv4Auctions.com) under its own banner at auctions.ipv4.global.
"Shelter Tech is incredibly humbled to have been voted the winner of the Good Netizen Award San Francisco from IPv4.Global," comments Molly Cohen, Executive Director. "We are grateful for the community support we received and so impressed by the work of the other finalist organizations. This award will help us fulfill a promise to work harder and smarter to help those experiencing homelessness in San Francisco."
IPv4.Global Good Netizen Awards programs will continue throughout 2019, coinciding with Internet-focused industry meetings and events across the globe. The next Good Netizen Award campaign will coincide with NANOG 76 meeting taking place in Washington, DC June 10-12, 2019.
For more information about the IPv4.Global Good Netizen Awards including consideration guidelines, email hilco@imillerpr.com.
To learn more about IPv4.Global, visit www.ipv4.global/. For more information about Hilco Streambank, visit www.hilcostreambank.com/.
# # #
About IPv4.Global
Since 2011, IPv4.Global has become the leading IPv4 address broker serving clients in every region and supporting transactions of IPv4 addresses of every size. IPv4.Global counts among its clients the largest Global network providers and cloud computing companies as well as thousands of smaller organizations who buy or sell addresses online via their auction platform. Our mission is to provide exemplary service for our clients, transparency to the IPv4 market, and to operate within the framework of transfer policy in each region. Headquartered in New York, IPv4.Global is an operating unit of Hilco Streambank, a leader in intangible asset valuation and monetization.
MEDIA INQUIRIES:
iMiller Public Relations for IPv4.Global
1.866.307.2510
Email: pr@imillerpr.com