Odor, Corrosion and Indoor Air Quality Manufacturer Positioned for Growth in Municipal, Industrial and Commercial Markets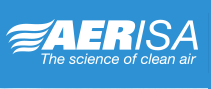 Mamaroneck, NY – November 29, 2016 – Aerisa, a provider of odor control technology for the wastewater industry, today announces it has appointed Haluk Bafrali as its new Director of Sales and Marketing, Municipal.
Mr. Bafrali brings with him 30 years of experience providing odor control to the municipal customer base. He has held sales positions at Anue Water Technologies, Duall Division, Siemens Water Technologies and other odor control technology organizations.
"Aerisa continues to demonstrate that odor control can be environmentally friendly and cost-efficient," comments Mr. Bafrali.  "Aerisa's solution sets it apart from legacy odor control products already present in the market.  I welcome the opportunity to work with municipalities in providing employees and surrounding communities alike with odor-free air."
"We are pleased to have Haluk Bafrali join Aerisa's dedicated team of industrial, commercial and municipal sales professionals," says Andrew Weiller, Aerisa's Director of Sales and Marketing, Industrial/Commercial.  "Haluk has a proven track record of success in driving brand visibility, and will be an asset to the company as Aerisa continues to grow its customer base."
Aerisa continues to invest in products and technology and is growing with the recent completion of two large odor control systems.  Unlike legacy odor-control systems that utilize carbon, chemicals or biological media to scrub air exhausted out of a building, Aerisa ionization systems supply highly ionized air with O2+ and O2- ions to the application areas.  These ions proactively attack the contaminants at their source while vastly improving indoor air quality.
# # #
About Aerisa
Aerisa manufactures bipolar ionization technology that results in dramatic air quality improvements in a wide array of markets including industrial, institutional, commercial and residential.  Aerisa successes are found in the most demanding applications, such as wastewater treatment, food processing, casino, athletic, and transportation.  Contact Aerisa at 1-877-4-AERISA (237472) or visit www.aerisa.com.
MEDIA INQUIRIES:
iMiller Public Relations for Aerisa
Tel: +1.866.307.2510
Email: pr@imillerpr.com