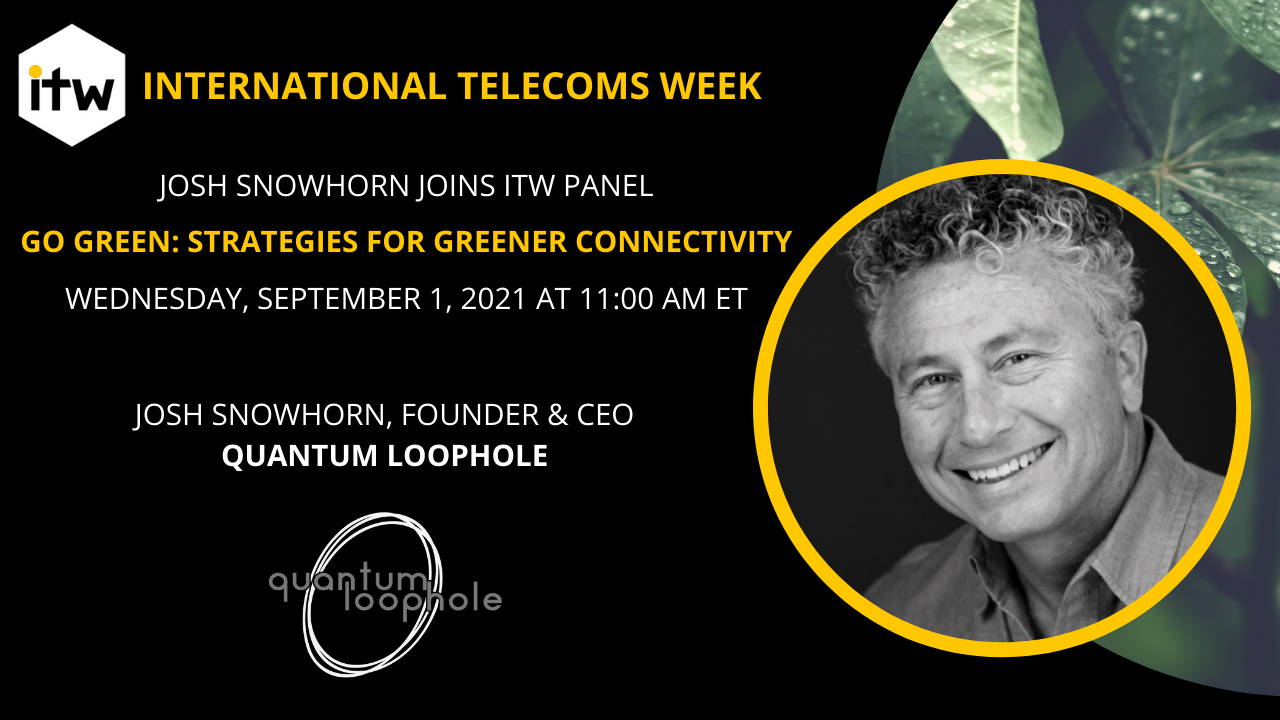 Thought leaders will explore what network operators can do to improve the sustainability of their businesses – both environmentally and strategically
AUSTIN, TX – August 25, 2021 – Quantum Loophole, Inc., innovative developer of first-of-its-kind master planned data center communities, announces their Founder and CEO, Josh Snowhorn joins other thought leaders on a panel during International Telecoms Week (ITW). The panel discussion takes place Wednesday, September 1, 2021 at 11am ET. Josh and other thought leaders will discuss strategies for greener connectivity in the data center industry.
The industry is facing an ever-growing demand for connectivity. As a result, the industry is searching for ways to commit to a more sustainable digital future. The digital transformation is helping create a greener world. During the panel, thought leaders will explore expanding awareness, impact on network automation on network efficiencies, and what network operators can do to improve the sustainability of their businesses – environmentally and strategically.
"We're excited to share our approach to data center deployments and the benefits we can achieve at scale," says Josh Snowhorn, Quantum Loophole founder and CEO. "There are a lot of terrific things the ITC world is doing to go green and Quantum Loophole is building on that by going big."
The ITW 2021 agenda is split into eight different streams, bringing a complete overview of the ever-changing and evolving ICT infrastructure and its latest developments. One of the streams, Go Green is about the wake of green bond releases and commitments to the Scientific Targets-Based Initiative, and how it's time for communications to go green and create a sustainable infrastructure for the future. Speakers will be able to position their brand as a leader of green initiatives and be inspired to take urgent action.
What:
Panel Discussion: "Go Green: Strategies for greener connectivity"
Where:
Blended: Live
When:
Wednesday, September 1, 2021 at 11am ET
Who:
Panel members include:
Josh Snowhorn, Founder & CEO, Quantum Loophole

Chuck McBride, Chief Revenue Officer, Critical Project Services & Integra Mission Critical
Gordon Mackay, Head of Multilateral Organisations and Sustainability Policy Lead, Access Partnership
Katie Hill, Director of Business Operations, Africa Data Centres
For more information about Quantum Loophole, visit www.quantumloophole.com
# # #
About Quantum Loophole
Quantum Loophole disrupts data center development delays with rapid platform delivery for land, power, connectivity, and scale. The company's first-of-its-kind gigawatt-scale, master planned data center development approach uniquely addresses the scalability, connectivity, and cost-efficiency challenges of today's large-scale deployments. Powered by innovative energy, fiber, and access control systems, Quantum Loophole's master planned communities take the guesswork out of adding needed data center capacity, allowing hyperscalers, enterprises, and colocation providers speed go-to-market capabilities. Incorporating renewable energy, land and water improvements, Quantum Loophole offers an environmentally sound approach that reduces the overall carbon footprint while fully enabling powered land with the highest level of connectivity, reliability, and security.
Media Contact:
iMiller Public Relations for Quantum Loophole
Tel: +1 866-307-2510
ql@imillerpr.com