Three local organizations have been selected as finalists for the Good Netizen Awards with open, online voting to take place from February 12 to February 24 coinciding with NANOG 75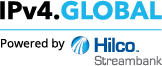 NEW YORK, February 12, 2019 — IPv4.Global, an operating unit of Hilco Streambank, today announces ShelterTech, The Linux Foundation and Girls in Tech as the finalists for the next IPv4.Global Good Netizen Awards (GNAs), occurring in conjunction with the San Francisco, CA meeting of NANOG 75 taking place February 18-20, 2019. If you would like to vote for a San Francisco Good Netizen, please click here.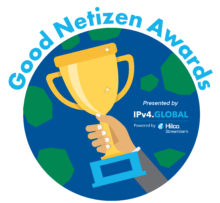 The IPv4.Global Good Netizen Awards recognize and celebrate local organizations that have demonstrated exceptional "netizenship" throughout their communities, including engaging in the promotion of internet access for all, supporting and funding internet and technology education, and contributing to open and ethical internet business practices. The winner will be chosen through online voting, which opens today, Tuesday, February 12 and concludes on Sunday, February 24. IPv4.Global will contribute one percent of its IPv4 online auction platform gross sales from March 4 through March 10, dividing the proceeds between the Good Netizen Award winner and runners-up proportionate to the number of votes each organization receives.
"We would like to extend our sincere congratulations to all the organizations selected as finalists for this edition of the Good Netizen Awards," states Gabe Fried, Chief Executive Officer, Hilco Streambank. "Each parties' dedication to the betterment and support of the internet community is truly outstanding. From promoting equal access to the creation of sustainable and universally beneficial technologies, every finalist we have chosen showcases exemplary work underpinning one or more critical pillars of good netizenship."
San Francisco Good Netizen Finalists
The Linux Foundation supports the creation of sustainable open source ecosystems. Since its founding in 2000, The Linux Foundation has seen massive acceptance across multiple sectors, including finance, government, education and even film. This has been accomplished through the organization's efforts to provide financial and intellectual resources such as infrastructure, training, events and beyond.
ShelterTech works to empower those experiencing homelessness by providing access to opportunities across the web. Working to solve the biggest technology issues facing underserved or disadvantaged individuals, the organization offers a range of services including ShelterConnect, which provides free WiFi access in shelters and transitional housing.
Girls in Tech's mission is to put an end to gender inequality in technology-based industries and startups. Offering everything from coding courses, bootcamps and hackathons for all ages and professions, Girls in Tech works to educate and empower women. With a global Girls in Tech community that boasts 60 chapters across 36 countries, the global non-profit facilitates access, opportunity and community across the world and for every woman passionate about technology.
"The Linux Foundation is honored to be a Good Netizen Award Finalist, highlighting our mission to nurture and support the world's most important shared open technologies such as Linux, Kubernetes, Node.js, Let's Encrypt and many others," said Jamie Smith, CMO at The Linux Foundation. "As stewards of more than 150 open source projects and communities, we're proud to work with the world's top developers to help them advance open source technology and accelerate global innovation."
"ShelterTech is honored to be nominated for the IPv4 Global Good Netizen Award," said Molly Cohen, Executive Director of ShelterTech. "We promote internet access for all our neighbors by installing free Wi-Fi in homeless shelters throughout San Francisco. We believe that it's crucial for tech companies to give back to their communities and are thrilled by the strong example of 'netizenship' that IPv4 sets with this award."
"Girls in Tech San Francisco is thrilled to be nominated for IPv4.Global's Good Netizen initiative this year. We are an entirely volunteer-run organization and are really appreciative that our work to provide mentoring, networking, and recruiting support for girls and women in technology is being amplified through this platform," states Fatema Kothari, Managing Director of Girls in Tech San Francisco. "We are hopeful that the next generation of Internet technology is going to help bridge the digital divide, and we look forward to building a more inclusive, empowering Internet that works for all."
For more information about the IPv4.Global Good Netizen Awards, email hilco@imillerpr.com.
To learn more about IPv4.Global or place a vote for a Good Netizen finalist, visit www.ipv4.Global. For more information about Hilco Streambank, visit http://www.hilcostreambank.com/.
# # #
About IPv4.Global
Since 2011, IPv4.Global has become the leading IPv4 address broker serving clients in every region and supporting transactions of IPv4 addresses of every size. IPv4.Global counts among its clients the largest Global network providers and cloud computing companies as well as thousands of smaller organizations who buy or sell addresses online via their auction platform. Our mission is to provide exemplary service for our clients, transparency to the IPv4 market, and to operate within the framework of transfer policy in each region. Headquartered in New York, IPv4.Global is an operating unit of Hilco Streambank, a leader in intangible asset valuation and monetization.
MEDIA INQUIRIES:
iMiller Public Relations for IPv4.Global
1.866.307.2510