Summit to Unveil Survey Results Providing Insights into the Key Issues Affecting Executives within the Global Wholesale Telecoms Industry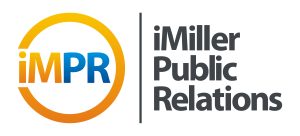 MAMARONECK, NY – April 24, 2014 – iMiller Public Relations (iMPR), a leading international marketing and public relations consulting firm servicing the telecommunications, technology and wireless industries, announces today its sponsorship of Capacity magazine's Confidence, Innovation and Leadership Survey (C100) and the luncheon Summit unveiling results of the Confidence, Innovation and Leadership Survey during International_Telecoms_Week  (ITW) 2014.  
The exclusive, invitation-only event is free for registered attendees of ITW 2014 and takes place Monday, May 12 from 12:30 PM to 2:00 PM.  The Confidence: Innovation: Leadership Summit will feature an educational panel comprised of key industry thought-leaders, and will reveal the results of this year's survey, outlining strategic priorities, assessments of the industry, innovation and leadership styles that are shaping the future direction of the telecoms wholesale industry.
This panel will be moderated by acclaimed Documentary Host, Producer and Broadcaster, Bill Curtis, and will include Summit leaders Daniel Kurgan, CEO, BICS; Shawn Henry, President and CSO, CrowdStrike; Holger Magnussen, SVP, Deutsche_Telekom_ICSS; Dave Welch, Co-Founder and President, Infinera; and Will Hughes, Global Head of OTT, Telstra_Global.  Panelists will provide insight into the results of the Confidence, Innovation and Leadership Survey as well as individual industry observations and predictions on the future of the telecoms wholesale marketplace, including leadership trends, innovations, directions and challenges identified by this survey.
"We are honored to be a sponsor of the Summit and Survey results along with industry thought-leaders Tata Communications and Telefonica," comments Ilissa Miller, Chief Executive Officer of iMiller Public Relations.  "The report serves as a valuable tool for cultivating understanding of the current position and future success of the wholesale telecoms industry with results based on candid insights from respected leaders, that provide significant information for key decision-makers in the IT space."
ITW attracts attendees from diverse industry affiliations including Tier 1, 2 and 3 carriers, mobile and wireless operators, ISPs, VoIP providers and technology partners from the voice, data, satellite, sub-sea and fixed line markets.  This year, ITW will engage more than 5,847 delegates from over 1,300 companies, offering various networking opportunities through conference sessions, meeting rooms, an integrated exhibit and bilateral table area, numerous breakfasts, lunches and cocktail receptions.  A valuable source for client sourcing in the wholesale industry, ITW is regarded as one of the most important and influential conferences within the telecommunications syndicate.
Though free for all ITW attendees, space is limited for the exclusive Confidence: Innovation: Leadership presentation and requires a RSVP to attend.  To reserve your seat, please e-mail C100@capacitymedia.com or click on this link.
To learn more about iMiller Public Relations, visit www.imillerpr.com.  To request a meeting with our team and/or clients at ITW, email pr@imillerpr.com.
For more info about ITW, visit www.internationaltelecomsweek.com         
# # #
About iMiller Public Relations
iMiller Public Relations is a results-driven, independent public relations and marketing consulting firm.  At the forefront is iMPR's industry thought-leadership, where its consultative, industry-insider perspective helps its clients propel their messages more effectively.  Each client is provided with a custom set of services to meet their individual needs, including the development of a comprehensive and strategic marketing communications plan that encompasses Strategic Media and Analyst Relations, Digital Marketing, Product Marketing, Content Development, Social Media, Crisis Management, Event Planning, Media Outreach, Competitive Analysis, as well as Web, Print and Electronic Design services.  Leveraging vast experience in sales, marketing, business development and product management, iMPR has the insight, knowledge and industry understanding to take your company to the next level.  For more information about iMPR, visit www.imillerpr.com.  

Media Contact:
Ilissa Miller
iMiller Public Relations
Tel:  +1.866.307.2510
Email:  pr@imillerpr.com