Society for Canadian Women In Science and Technology (SCWIST) Also Recognized as Runner Up for Exceptional Netizenship in Vancouver Community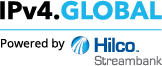 NEW YORK, October 23, 2018 — IPv4.Global, an operating unit of Hilco Streambank (www.hilcostreambank.com), today announces that Free Geek Vancouver has won the Vancouver IPv4.Global Good Netizen Awards (GNAs), followed by runner-up organization, Society for Canadian Women In Science and Technology (SCWIST). Both organizations will receive a financial contribution from a donation pool generated by IPv4Auctions.com sales in proportion commensurate with final voting. Free Geek Vancouver ended the race with 55 percent of the total of votes cast for the winner and runner-up. Second place went to SCWIST with 45 percent of those votes.
Free Geek is a nonprofit community organization that reduces the environmental impact of waste electronics by reusing and recycling donated technology. Through community engagement they provide education, job skills training, Internet access and free or low cost computers to the public.
"All of us at IPv4.Global extend our congratulations to Free Geek, a true model of good netizenship in action. The organization's effort to reduce e-waste and ensure their community's access to tools for successful internet provision and education should be celebrated," states Gabe Fried, Chief Executive Officer, Hilco Streambank. "We are pleased to award both Free Geek and our runner up SCWIST with financial contributions from IPv4.Global to thank them both for their fantastic stewardship. Both set examples as good actors in the internet community, facilitating a more encouraging, opportunity-laden and universally constructive internet environment for all."
Free Geek Vancouver was chosen as the winner through an open, online vote between three finalist organizations. The voting began on Friday, September 28, and concluded on Monday, October 8, coinciding with NANOG 74 and ARIN 42 events that were held in Vancouver the same week. IPv4.Global will contribute one percent of its gross sales on the IPv4Auctions.com platform from October 15 through October 19, dividing the proceeds between the IPv4.Global Good Netizen Award winner and runner-up proportionate to the number of votes each organization received.
"We are honored to have our efforts recognized by the Good Netizen Awards, and we feel even more grateful to have been selected as the winner, especially when among a group of such remarkable peers," notes Robert Pilkington, Operations Manager, Free Geek, "This opportunity and its funding will support us in our goal of facilitating sustainable technology practices and help us bring digital access and education to a growing number of individuals. Our sincerest congratulations goes out to SCWIST as well, as we all work towards our common goal of better internet stewardship in the Vancouver community."
The next IPv4.Global Good Netizen Awards will take place during NANOG 75 in San Francisco, California, February 2019. Future IPv4.Global Good Netizen Awards programs will coincide with industry meetings and events across the globe.
For more information about the IPv4.Global Good Netizen Awards, email hilco@imillerpr.com.
To learn more about IPv4.Global, visit www.ipv4.Global. For more information about Hilco Streambank, visit http://www.hilcostreambank.com/.
# # #
About IPv4.Global
Since 2011, IPv4.Global has become a leading IPv4 address broker serving clients in every region and supporting transactions of IPv4 addresses of every size.  IPv4.Global counts among its clients the largest global network providers and cloud computing companies as well as thousands of smaller organizations who buy or sell addresses online via their auction platform.  Our mission is to provide exemplary service for our clients, transparency to the IPv4 market, and to operate within the framework of transfer policy in each region.  Headquartered in New York, IPv4.Global is an operating unit of Hilco Streambank, a leader in intangible asset valuation and monetization.
MEDIA INQUIRIES:
iMiller Public Relations for IPv4.Global