Industry Veteran to Lead Sales Strategies and Identify New Business Opportunities
NEW YORK – September 5, 2018 – DataGryd, a leading data center provider in New York City, announces the appointment of Bill Betz as Vice President of Sales.  In this role, Mr. Betz will be responsible for the sales execution of the 60,000 sq. foot facility located on the sixth floor of 60 Hudson Street. Working closely with the President and CEO, Mr. Betz will help create and execute sales strategies and go-to-market plans while developing a pipeline for new business opportunities and managing customer relationships and communications.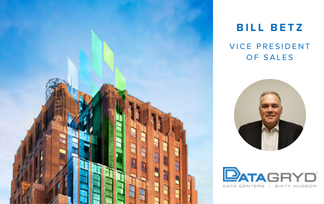 Mr. Betz is a results-oriented international sales and marketing executive with more than 30 years of success driving large global sales and marketing teams to increased revenue and market share. Formerly, he served as the Vice President of Sales at Sky Technology Partners, where he gained knowledge and insight into various cutting edge technologies and services, including Software-Defined Wide Area Networking (SD-WAN), hyperscale data center facilities, and software-, platform-, and infrastructure-as-a-service solutions.  Prior to Sky Technology Partners, Mr. Betz was Vice President of Sales at INAP, BT Radianz and Quality Technology Services (QTS).  He graduated with a Bachelor of Arts in Political Science from Middlebury College.
"I am honored to join the DataGryd team as we work together to discover new and exciting opportunities for business development and revenue generation," says Mr. Betz.  "DataGryd has a reputation for providing New York enterprises with the most advanced colocation and cloud infrastructure services and solutions, and I look forward to building upon its history of success as its new Vice President of Sales."
DataGryd is a premier data center provider headquartered in the heart of New York City at the iconic 60 Hudson Street.  It offers customers state-of-the-art power and cooling infrastructure for multi-tenant colocation as well as connectivity and cloud solutions, meeting the demand for data processing and storage in New York's urban market.
"We are delighted to welcome Bill Betz as DataGryd's new Vice President of Sales," shares Tom Brown, CEO and President, DataGryd.  "His impressive history of success in business development and sales throughout the telecommunications industry will make him an asset to the DataGryd team as we continue to grow and evolve as an organization."
 To learn more about DataGryd, visit www.datagryd.com.
 # # #
About DataGryd
DataGryd offers the most strategic international data network hub and largest single footprint data center available in New York City. DataGryd's 60 Hudson facility in Lower Manhattan provides up to 120,000 square-feet of premier colocation space and state-of-the-art power and cooling infrastructure for data network, telecommunications, cloud and large enterprises. Located in one of the world's most concentrated hubs of Internet connectivity, 60 Hudson provides access to over 300 interconnected carriers and exchanges, with multiple Points of Entry (POEs) from diverse data network providers and direct fiber conduits. In addition to providing facilities meeting the specifications outlined above, DataGryd has up to five 1MW suites that can be customized in smaller increments, starting at 250 kW up to 5 MW, to meet tenants' needs. Using proprietary MicroGrydTM technology, the high-density data center offers dual contingencies and delivers the highest value in energy efficiency, with direct primary utility feeds offering up to 12,000 KW of power. The company provides turn-key wholesale data center space that leverages fortified facilities and custom suites with minimal deployment requirements. To learn more about DataGryd, visit www.DataGryd.com
Media Contact:
iMiller Public Relations for DataGryd
Tel: +1 866 307 2510