Aqua Comms Receives 'Best Subsea Innovation' Honor for its Transatlantic Subsea Fibre-Optic Network America-Europe Connect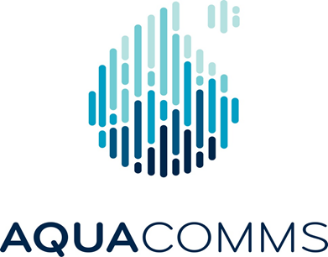 DUBLIN – November 10, 2016 — Aqua Comms DAC ("Aqua Comms"), the operator of Ireland's first dedicated subsea fibre-optic network interconnecting New York, Dublin and London, announces today it has won the 2016 Global Carrier Award for 'Best Subsea Innovation' given by Capacity Media.  Aqua Comms was recognized for the innovation, vision and excellence demonstrated by its state-of-the-art, transatlantic fibre optic cable system, America-Europe Connect (AEConnect).Aqua Comms' receipt of a 2016 Global Carrier award caps a momentous year of accomplishments that began when AEConnect went live and handed over commercial service to its first customer in January 2016.  Since then, Aqua Comms has created a number of significant partnerships with top-tier terrestrial networks, interconnection facilities and global data
Aqua Comms' receipt of a 2016 Global Carrier award caps a momentous year of accomplishments that began when AEConnect went live and handed over commercial service to its first customer in January 2016.  Since then, Aqua Comms has created a number of significant partnerships with top-tier terrestrial networks, interconnection facilities and global data centre hubs, including an agreement for the use of Equinix International Business Exchange (IBX) facilities in New York and London as carrier-neutral access points for its transatlantic submarine network.  The company also recently completed two proof of concepts, including an encryption solution affirming AEConnect's ability to address government-mandated regulations for the protection of in-flight data over vast transoceanic distances, as well as a test of 150 Gb/s per wavelength 8QAM (quadrature amplitude modulation) technology that will increase the capacity of Aqua Comm's submarine network by 50 per cent.  The honor also follows Aqua Comms' recent co-investment agreement with the Ireland Strategic Investment Fund to support the company's strategic vision of providing secure, next-generation international data connectivity to Ireland's growing digital economy.
"It's a wonderful honor to receive Capacity Media's 2016 Global Carrier Award for Best Subsea Innovation," states Nigel Bayliff, CEO of Aqua Comms.  "AEConnect utilizes innovative optical technologies to provide flexible and scalable connectivity to meet the exponential surge in bandwidth demand from carriers, global data centres, financial services companies, and cloud and content providers. Receipt of this award affirms the reliability, security and performance capabilities with which this next-generation, transatlantic cable network was designed."
Capacity Media's Global Carrier Awards are dedicated exclusively to the wholesale telecoms sector and bring together the industry's leading organizations to celebrate innovation and excellence.  The awards ceremony and gala dinner took place November 8 in Paris.
For more information about Aqua Comms, visit www.AquaComms.com or email media@aquacomms.com.
#
About Aqua Comms DAC
Aqua Comms DAC is the owner and operator of the transatlantic cable AEConnect and the Irish Sea cable CeltixConnect, and was established with a vision to build, acquire or merge with subsea fibre-optic cable networks to provide capacity networking solutions to the global media, content providers and IT companies. To learn more about Aqua Comms and its new transatlantic subsea cable system, AEConnect, visit www.AquaComms.com.
MEDIA INQUIRIES
Aqua Comms Contacts:
Aqua Comms DAC
Tel: +353 1 662 4399
media@aquacomms.com
Ilissa Miller
iMiller Public Relations for Aqua Comms DAC
Tel: +1 866 307 2510
pr@imillerpr.com