Dear Larry, We are pleased to announce the newly redesigned Plasma BAR. As you know, this product is a needlepoint bipolar ionizer arranged in a long, narrow bar design. The unit is installed at the air entering side of the cooling coil of an Air Handling Unit (AHU) or Rooftop unit (RTU).

The newly redesigned BAR:
Utilizes one-piece construction, instead of two, making it stronger.
Is slightly thinner so it is more aerodynamic.
Uses less material making it lighter and is easier to assemble so therefore more competitive.
Provides much easier access to the ionization cartridges, although the BAR rarely needs service.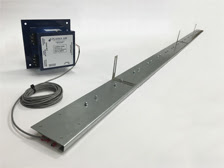 The BAR continues to have features that the competition's product does not.  The BAR:
Accepts 24 VAC (as does all Plasma Air needlepoint ionizers), while the competitors' unit requires line voltage.
Has a BMS (Building Management System) status output on the control panel that indicates actual ionizer functionality, not just power available. The competitor's unit requires external ion detection (more equipment).
Has an automatic fault reset, which most specs require. The competitor's unit has a manually replaced fuse.
Comes with a UL 867 listing. The competitor's unit has an irrelevant UL listing.
Has passed the UL Standard 867 Ozone test, while the competitors' unit has not.
If you have any questions regarding the new Plasma BAR or any other products, please email Dan Dowiak at ddowiak@plasma-air.com or call (856) 359-5722 mobile or (203) 662-0800 office. Regards, Larry Sunshine Vice President Sales & Marketing